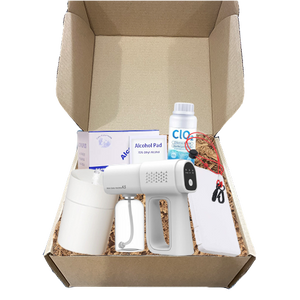 With the pandemic still happening, take care of yourself with our Stay Protected Hamper Pack. Perfect to be kept in the office to keep yourself safe and healthy! 
Contents Include:
K5 Wireless Nano Atomizer Spray Machine (White/Black)
Chlorine Dioxide Disinfectant Tablets
Hard Case Mask Holder (White)
Mask Chain (Pink/Black/Blue/Red/White/Purple)
Alcohol Swab Pads Phone Wipes (100 pieces)
Air Humidifier & Hydration

Terms and Conditions:

Products listed includes free delivery!
All prices are subjected to 8% GST
Bizlink has the right to replace items that are no longer in stock with items of similar value.
Photos are for reference; actual arrangement may not be identical Customized florals and hampers available.
Self collection available at; Bizlink Centre, 512 Chai Chee Lane, #01-11, S469028