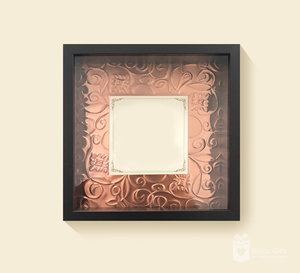 Description
Bizlink's hand crafted plaques are made of finely carved copper plates created by experienced disabled artist working in our sheltered workshop.

The design can be customised according to the occasion. These plaques make excellent corporate or presentation gifts for important guest or business associates. They can be used as frames for certificates.
Design: CP04G-Vines pattern
As shown in the picture
*Image not to scale
Price
Price: $96 per pc before gst
Specification

Code: CP04G-Vines pattern

Frame: Wood

Colour: Black

Size: Outer frame size, 27 x 27 x 4cm
Border: 1.6cm width
Copper foil size: 25 x 25 cm

Certificate size: 13 x 13 cm

Certificate Print. 
Lead time: 1-10 pc (3-5 days)
10 - 20 pc (7-12 days)
Packaging: Bubble wrap
Not Inclusive of giftbox, sold separately.
Our friendly coordinator will contact you after placing order.
**All price quoted is subject to 8% gst.