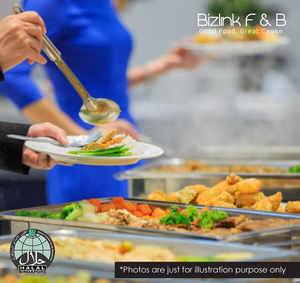 International Buffet $18 per pax (Min 30 pax)
Select two items from Main Course, and one item from the other categories. 
(Additional selection @$2.60 per pax)

Main Course
☐ Japanese Rice with Nori 
☐ Signature Olive Vegetables Fried Rice with Chicken Cube 
☐ Sarawak Pineapple Fried Rice
☐ Aglio Olio Linguine
☐ HK Supreme Soy Sauce Fried Noodles 
Vegetable/Soup
☐ Seow Bai Chye & Carrot with Oyster Sauce
☐ Stir Fried Baby Kailan with Carrot 

☐ Stir Fried French Bean with Prawns
☐ Chicken Tomyum Soup
☐ Wild Forest Mushroom Soup 
Poultry/Meat
☐ Ayam Lemak Chilie Padi
☐ Grilled Chicken with Blackpepper Sauce
☐ Golden Salted Egg Chicken 
☐ Japanese Teriyai Chicken
☐ Grilled Cajun Chicken
☐ Mock Char Siew 
Fish and Seafood
☐ Japanese Teriyaki Fish
☐ Sweet Sour Dory Fish with Sarawak Pineapple
☐  Kong Po Fish
☐ Chilie Garlic Prawn
☐ Spicy and Sour Lemongrass Prawns with Bell Peppers
☐ Black Pepper Mock Fish 
Snack
☐ Thai Shrimp Cake
☐ Beancurd Roll
☐ Hot and Spicy Drumlet
☐ Oven Baked Rosemary Potato Wedges
☐ Curry Samosa 

☐ Vegetables Gyoza 
Dessert
☐ Chocolate Éclair
☐ Mini Blueberry Muffin
☐ Mini Oreo Cheesecake
☐ Four Seasons Mochi 

☐ Fresh Fruits Platter 

☐ Four Seasons Mochi
Beverage
☐ Coffee
☐ Tea
☐ Lime Juice
☐ Fruit Punch
☐ Ice Lemon Tea 
☐ Ice Peach Tea
 Vegetarian Option
Terms & Conditions
Minimum Order of 30 Persons.

Transport Charge no setup $20.00, with setup $50.00.

No Cancellation of order allowed after confirmation of order.

Event Duration of 3 hours only. (Commence from eating time)

All buffet food is best consumed within first 4 hours of catering time.

All menus & dishes are subject to availability and changes without prior notice at the sole discretion of the company.

8% GST of total amount chargeable.

Prices are subject to changes without prior notice
Bizlink is a halal-certified catering services that is perfect for your special occasions.