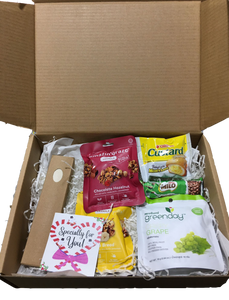 Heading back to work? Grab one of our very own back to work snack care packs now! Perfect to use for yourself or even gift your colleagues as a welcome back gift! Filled with yummy and delicious treats!

Contents Include:
Mini Dark Chocolate Brownie Chips 
Greenday Classic Fruit
Julie's Oat 25 Cookies- Ten Grains
Pocky (White Cookies) 
Win2 Baked Potato Crisp Crackers- Assorted Flavour
300ml Wheat Water Bottle 

Terms and Conditions:

Products listed includes free delivery!
All prices are subjected to 8% GST
Bizlink has the right to replace items that are no longer in stock with items of similar value.
Photos are for reference; actual arrangement may not be identical Customized florals and hampers available.
Self collection available at; Bizlink Centre, 512 Chai Chee Lane, #01-11, S469028