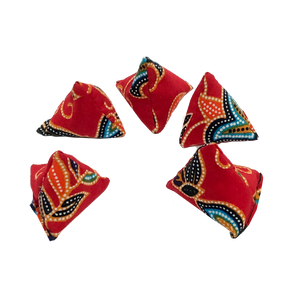 Missing the kampong days? Get our set of handmade cotton five stones to travel back in time!
Five stones is a popular traditional children's game that helps to improve dexterity and hand-eye coordination. Bring it wherever you go with our small, portable set of five stones! Made with a unique batik design, you can have fun and show off your Singaporean pride at the same time. They'll also work as simple, cute gifts for gatherings and celebrations.
Specially made by people with disabilities working in Bizlink Centre, a non-profit organisation dedicated to helping disadvantaged individuals find employment. Your support will help to boost their income and confidence in life.
Colours: Red, Blue, Green, Black