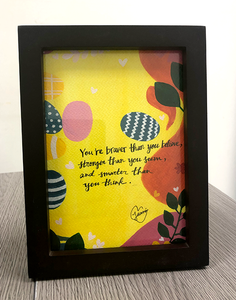 Title: You are my sunshine!
"You're braver than you believe, stronger than you seem, and smarter than you think." - Christopher Robin That's right! Here's a quote from one of our favourite fairy tale here at Bizlink, Winnie the Pooh! From being known as the "bear with a very little brain" to Eeyore's Depression, Winnie the Pooh is a story of inclusiveness and one which we keep close to heart. Just like Christopher Robin, we hope this bright and cheery painting brings strength and sunshine to whoever may need it.
Price: $25 (price quoted excludes GST and Delivery charges)
Medium: Water colour & acrylic paint. 
Size: 4R size
Frame: Included 
Support the artist
Artist: Janna Lua (Austim Spectrum Disorder, 23) With a flair for arts, Janna is currently employed at Bizlink Centre Singapore as a designer and painter and used to work as a manicurist before joining us in 2020. In her free time, she enjoys spending quality time with her family, catching up on her favourite TV shows and creating nail art.