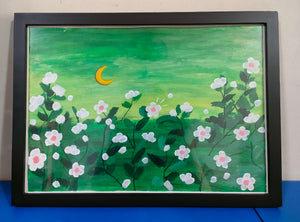 Night-time on the grassy fields. The slow sway of the plants in the wind paired with the gentle moonlight creates a sense of calm and peace. White flowers that dot the scenery are like the little joys in life, shining through the shadows in the night.
Price: $80 (price quoted excludes GST and Delivery charges)
Medium: Acrylic paint. 
Size: A3 size
Frame: Included 
Support the artist
Artist: Janna Lua (Austim Spectrum Disorder, 23) With a flair for arts, Janna is currently employed at Bizlink Centre Singapore as a designer and painter and used to work as a manicurist before joining us in 2020. In her free time, she enjoys spending quality time with her family, catching up on her favourite TV shows and creating nail art.