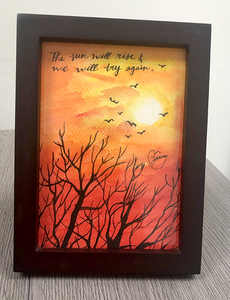 Title: New Beginnings
Description: Tick Tock! Is it affirmation o'clock? Remember it's only a bad day and not a bad life because the sun will rise, and we will try again. A sentimental piece with a quote which our artist holds dear, this painting depicts Janna's hopes and aspirations for a bright future.
Price: $25 (price quoted excludes GST and Delivery charges)
Medium: Water colour
Size: 4R size
Frame: Included 
Support the artist
Artist: Janna Lua (Austim Spectrum Disorder, 23) With a flair for arts, Janna is currently employed at Bizlink Centre Singapore as a designer and painter and used to work as a manicurist before joining us in 2020. In her free time, she enjoys spending quality time with her family, catching up on her favourite TV shows and creating nail art.