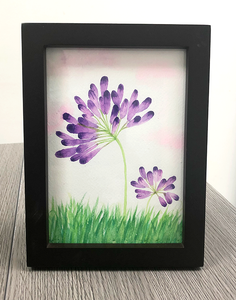 Title: I Purple You
Description:
Know someone who is starting a new journey/milestone in life? Cheer them on with our Purple Allium flowers, a symbolization of good fortune and prosperity.

Price: $35 (price quoted excludes GST and Delivery charges)
Medium: Water colour
Size: 4R size
Frame: Included 
Support the artist
Artist: Janna Lua (Austim Spectrum Disorder, 23) With a flair for arts, Janna is currently employed at Bizlink Centre Singapore as a designer and painter and used to work as a manicurist before joining us in 2020. In her free time, she enjoys spending quality time with her family, catching up on her favourite TV shows and creating nail art.