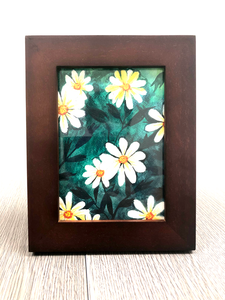 Title: Dainty Daisy
Description: A wise man once said to take time to enjoy the simple things in life, I'm sure he was referring to Janna's daises, one of her favourites. Are they yours too?
Price: $50 (price quoted excludes GST and Delivery charges)
Medium: Water colour
Size: 4R size
Frame: Included 
Support the artist
Artist: Janna Lua (Austim Spectrum Disorder, 23) With a flair for arts, Janna is currently employed at Bizlink Centre Singapore as a designer and painter and used to work as a manicurist before joining us in 2020. In her free time, she enjoys spending quality time with her family, catching up on her favourite TV shows and creating nail art.