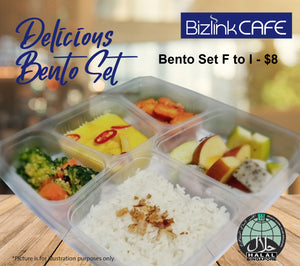 Bento Set  (Min 10 pax.)
Find your favourite dishes in our $8 bento set menu, all you need is a minimum order of 10.
Select your menu and fill in the form above. 
 Chef's Recommendation
Menu for Bento Set F
Ayam Lemak Chili Padi
Stir Fried Long Cabbage
Bean curd Roll
Steamed Rice
Menu for Bento Set G
Thai Spicy Basil Chicken with Cashew Nut

Stir Fried Broccoli with Shitake Mushroom & Sweet Carrots

Sweet sour fish

Steam Rice
Menu for Bento Set H 
Grilled Chicken with Brown Sauce
Butter Rice with Raisin
Potato Wedges
Coleslaw
Menu for Bento Set I (Vegetarian)
Steamed Rice

Stir Fried Blackpepper Mock Meat
Stir Fried Baby KaiLan with Carrot
Stir Fried Sour Mock Lobster Ball

Terms & Conditions
Minimum Order of 10 Persons.
Transport Charge at $20.00.
No Cancellation of order allowed after confirmation of order.
All food is best consumed within first 4 hours of catering time.
All menus & dishes are subject to availability and changes without prior notice is at the sole discretion of the company.
Price quoted excludes 8% GST.
Price is subject to change without prior notice.
Bizlink F&B is a halal-certified catering service that is perfect for your special occasions.