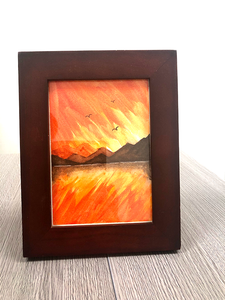 Title: African Dream
Don't we all agree that this seems like a scene from the Lion King? Sunsets are always special but African sunsets always hit different. There's magic in them. This one originates from Janna's dream of watching the open savannah plains out in the African desert.
Price: $35 (price quoted excludes GST and Delivery charges)
Medium: Water colour
Size: 4R size
Frame: Included 
Support the artist
Artist: Janna Lua (Austim Spectrum Disorder, 23) With a flair for arts, Janna is currently employed at Bizlink Centre Singapore as a designer and painter and used to work as a manicurist before joining us in 2020. In her free time, she enjoys spending quality time with her family, catching up on her favourite TV shows and creating nail art.