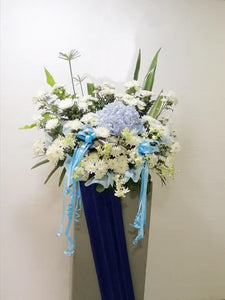 Celebrate grand occasions with these congratulatory standing flower arrangement.
Suitable for grand opening, weddings and other celebrations! 
Box stand may vary. 
Similar to all fresh flowers, the flowers shown are seasonal. 
Filler flowers are subjected to change based on availability without prior notice.
All prices quoted are subject to 8% GST.
Bizlink has the right to replace items that are no longer in stock with items of a similar value.
Photos are for reference; actual arrangement may not be identical.
Customised florals & hamper available.